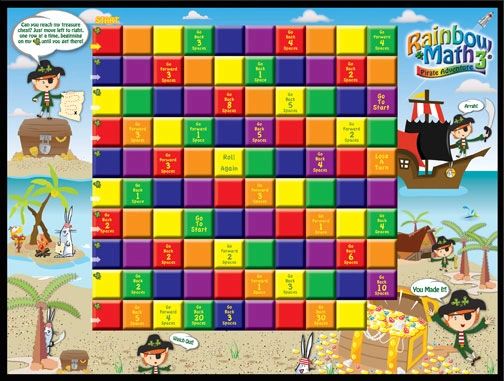 Rainbow Math® 3 - Pirate Adventure
is for children ages 7+ who are learning multiplication, division, mixed operations (including addition and subtraction), number sentences, missing values and more. Kids can choose what they will learn as they enjoy an adventure seeking the treasure chest. Arrgh!
Contents
: 1 Board, 2 Numbered Cubes (0-5), 2 Numbered Cubes (5-10), 2 Double-Digit Cubes, 6 Function Cubes (x, ÷, x/÷, +/-/x, +/-/x/÷, =), Tokens, Gold Coins,
6 Playing Pieces
Proceeds
: Retails for $24.99 at select Barnes & Noble stores and some local specialty toy retailers. Support small business and visit your neighborhood toy store today! We are committed to giving 10% of the net proceeds to The Ivymount School, Special Olympics, and other organizations dedicated to helping individuals with special needs.