To learn more about Rainbow Math® and for an overview of the whole series, please view my Introduction to Rainbow Math® video.

To learn more about each game in the series, please view the following tutorials: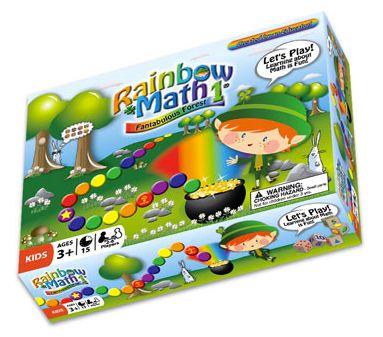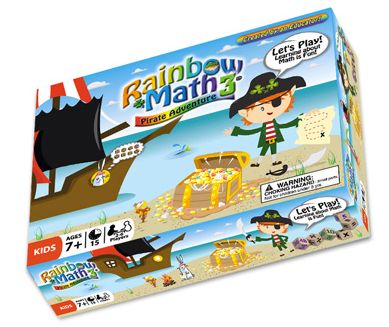 Rainbow Math 1 Rainbow Math 2 Rainbow Math 3


Rainbow Math® is educational and fun at school, in day care, and at home. It was originally designed as a classroom tool to teach new concepts, but then students began playing Rainbow Math® just for fun on rainy days or at dismissal. Then, they began borrowing it to play at home with their families. Rainbow Math is so versatile that kids can have fun with it anywhere!
Why does Rainbow Math® work so well?
Children of different ages and levels can play together;
Up to 6 players can play at a time;
The rules allow for flexible game play;
Children and their teachers or parents can choose what skills to learn;
There are lots ways to play so it never gets boring; and
It is educational and fun – all at the same time!

Rainbow Math® is the perfect way to teach new skills or reinforce old ones. How can you use it?
Here are some examples to get you started, but with Rainbow Math®, you get to be creative and choose how you want to play. So, mix it up, keep the game exciting, and have lots of fun!

In the Classroom:

Small Group:
Rainbow Math® can be used in a center inside the classroom with a teacher introducing new concepts as the kids play; or
A parent volunteer can pull a group of up to 6 students to reinforce a concept they have mastered (this would help make a larger class much smaller); or
Students can play at an independent level as they rotate through a center.
Each set of rules lists common core standards of learning that are met with each game.
Large Group: If you do not have a parent volunteer or use centers, then you can use Rainbow Math® with your large group as well. Here's one way to try it:
Divide the class into groups (up to 6 groups, one for each color of the rainbow).
Each group sends 2 students to the front of the class when it is that group's turn.
One student rolls the cubes and sets up the problem to solve. He/she dictates the problem to the second student who writes it on the board and solves it.
The second student asks his/her group to check the answer to make sure it is correct. If the group is correct, they can advance along the board. The group can also ask the whole class to weigh in so that everyone is involved.

The groups alternate turns, each time sending up 2 different students to solve problems and advance the group's playing piece toward the leprechaun's treasure.
All students in the class can write out each problem in their math journals to make sure everyone is engaged.
The teacher monitors the movement along the board and can give the "play-by-play" to the whole class to keep the game exciting.
I had the good fortune of working in Sandzile Primary School, a township school in Kabokweni, South Africa, where most classes have 50-60 students (thank you to Norma and Peter for the opportunity to visit SPS). Rainbow Math was a big hit! If 60 kids can learn and have fun playing Rainbow Math, just imagine how much fun the students in classroom of 25 to 30 students can have! Take a look at the photos!

At Home:
Home Schooling:
Rainbow Math® is great for families who choose to home school. Children of different ages and levels can play at the same time. Once the parent determines which cubes each player will use so that game play is fair, then the kids are ready to play. For example, one child can work on missing values while another works on addition and/or subtraction.
Rainbow Math® can be used at home to teach new skills or reinforce old ones in the same way a teacher or parent volunteer would use it in a small group setting in the classroom.
Each set of rules lists common core standards of learning that are met with each game.
Remember, Rainbow Math® allows for flexible play so that parents and children can adapt the game to meet their needs.
Just for Fun:
Rainbow Math® can be used at any time with the whole family. Parents can play too!
Rainbow Math® is a great way to teach skills to a child who is struggling to learn a new concept at school. It is much more fun than a worksheet!
Play Rainbow Math® on the weekend to reinforce what the kids are learning at school. Or, play it during the summer so that kids do not lose their skills over the long break.
Just sit down as a family, break open the box, and begin playing. Mix it up, let the kids decide how to play and have fun together as a family!
For more information about how I developed Rainbow Math®, read My Story.